Nail Art Designs DIY – 1
Hello, hope everyone is doing well, Today I'm here with a simple design and a beautiful Nail Art Designs DIY tutorial for you all. It's my first design so I thought I should start with a simple Mani and then slowly slowly I will move to some higher level designs cause we have to start from somewhere right !
So the design you see here is one of those designs which I made when I started my journey to the amazing nail art world. Recreating this design surely brings back so many amazing memories.
I love doing nail art and love to share them with you guys too. I'm wondering what different hobbies you guys have? 
Please share them with me !
Without further ado..Let's make this design: 
1- Paint your nails with a lighter color shade (like here I have used "carnation" by 'Gorgeous Cosmos').
2- Paint your nails diagonally with other polish shade which works best as a combination with the base polish. My advice would be to choose a vibrant color or a glitter polish just like I did ( here I used shade no. 22 by 'Swiss Beauty' )
3- Now take your dotting tool (See Image below). Dip your tool tip in the shade with which you painted your nails diagonally in the second point above and make dots on the base colour (mentioned in point first). PROFESSIONAL TIP: Keep in mind that the gap between two dots should be of same size as the size of the dots you make. It gives a clean, finished look to your mani.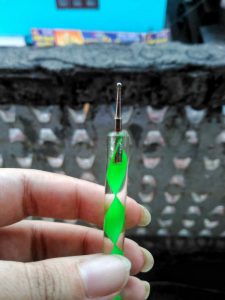 4- Now take other shade and do the step no. three again on the second color but keep in mind that the dots you make in this step should not be directly aligned with the dots from step three. These dots should be opposite to the spaces between dots drawn in above mentioned point three.
5- In the end, apply the top coat to give it a smooth and shinny look And viola! you're done. Congratulations.
Give yourself a clap of appreciation for the feast you achieved by making such a beautiful manicure that too without any professional assistance..well except me off course ???.
If you couldn't do it perfectly in first try than don't worry about it. You will do it one day. Also doing nail art is for fun and it should make you feel relaxed so if you take it as a stress and worry about your failure than you won't be able to enjoy it and the end product won't be as beautiful as you imagine it.
The thing which is most important here is that you guys enjoy your nail art… that too with me of course.
Article Submitted by: Tulika Agarwal
Want more DIY designs – CHECK HERE