Description
"Gentle Exfoliation With A Spritz of AHA/BHA Toner"
COSRX AHA/BHA Clarifying Treatment Toner


Contains 74.55% Jeju mineral water effective in supplying moisture and nutrition.
Contains 10% of apple water that adds vitality and suppleness to the skin with rich minerals and vitamins.
Contains 10% Salix Alba (Willow) Bark Water and 0.1% beta-salicylate, helps to even out bumpy skin by clearing sebum and pores.
Contains 0.1% of AHA ingredients for mild exfoliation.

A transparent, watery type in a spray bottle

A slight scent naturally derived from the ingredient, close to no scent

Amazon Top Best 100 (Amazon Dotcom K-BEAUTY Category Top)
Amazon Best Sellers in Facial Toners & Astringents (June 16 – May 17)
Hypoallergenic test completed

Tips:
When you need mild exfoliation, gently tap and absorb liquid after spraying on skin.
When you need special care to remove dead skin cells, spray&soak cotton pads with the toner and gently swipe your skin surface.
You can DIY your facial sheet mask for dead skin cells by soaking a thin cotton pad with the liquids in a container.
Avoid sensitive areas like the eyes and mouth when use.
Recommended for use during night routine.
When using this toner before makeup, please use with a Sunscreen with SPF level above 30.
Mix of products:
You can use COSRX One Step Original Clear Pad for an extra clean look.
Try using COSRX Hyaluronic Acid Intensive Cream that can give you ample moisture after exfoliation with the toner.
If you plan to use this before makeup, use a strong sunscreen to protect skin from UV rays after exfoliation with the toner.
If you have an oily skin, accompany with other sebum-care products as well as other calming moisture creams.

Volume: 150ml
Recommendation based on skin types: oily skin, combination skin
Recommended when:  you need a light dead skin cell care, for people who needs oil control, recommended for night routines
Country of origin: South Korea
Expiration date or period of use after opening: Within 36 months from the date of manufacture (12 months after opening)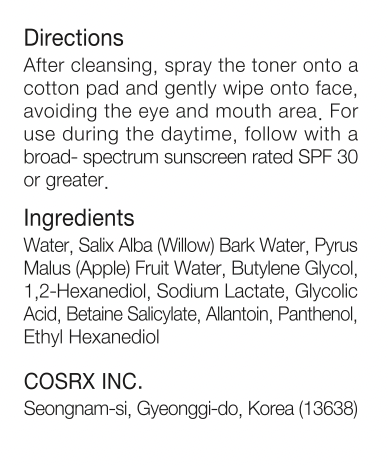 Water, Salix Alba (Willow) Bark Water, Pyrus Malus (Apple) Fruit Water, Butylene Glycol, 1,2-Hexanediol, Sodium Lactate, Glycolic Acid, Betaine Salicylate, Allantoin, Panthenol, Ethyl Hexanediol