Description
Zosmetics. brings a vast variety of beauty products infused with natural ingredients to elevate their beauty quotient and appeal, naturally! Shop for other amazing products online and keep killing it!
Put A Ban on Sun-Tan!
Sunlight or tanning caused by it, is no more a hindrance while stepping outdoors. No more worrying about how to remove tan from face immediately! Zosmetics. Anti-Tan Coffee Scrub is your next best friend as it frees your body skin from tan and restores your original skin tone. This sun-tan removal scrub consists of an incredible combination of two highly effective ingredients – Chocolate & Coffee – to give your skin a divine experience! Chocolate and coffee, as you may agree, is a match made in heaven for your skin and soul; it not only appeals to your senses but also gives brilliant results when used on the skin.
Let your body soak in the goodness of Chocolate Coffee Scrub after that beach holiday, while you sit back, relax and enjoy the fragrance!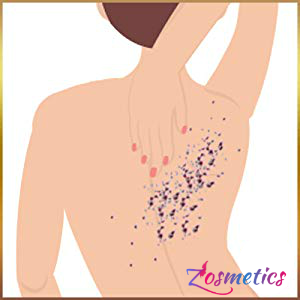 Massage
Massage your face, hands, legs, and body for some tender coffee love.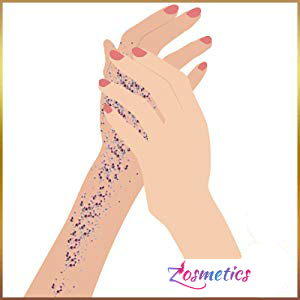 Relax
Do just nothing for 3 to 5 minutes as the scrub moisturizes your skin.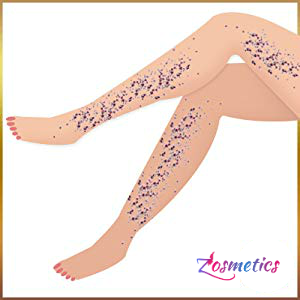 Rinse
Rinse the scrub off and do away with dull and dead skin within minutes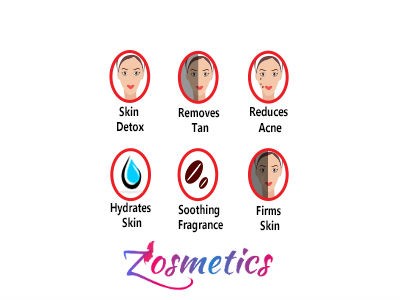 Proven Benefits of Chocolate and Coffee!
Here is good news for all the chocolate & coffee lovers. For a fact, these two ingredients treat not only your taste-buds, but also your skin! If you suffer from dull, dry and tanned skin, chocolate and coffee are the perfect partners-in-crime to banish these skin concerns. Additionally, this scrub contains a blend of natural oils like Argan Oil, Sweet Almond Oil, Coconut Oil & Vitamin E Oil, which are proven caretakers of your skin. The consistency of the scrub is just right to give your skin the nourishment it needs without any stickiness or greasiness. This sun-tan removal scrub detoxifies your skin of impurities, removes dull, dry and tanned skin, and revitalizes it to the core to give it a renewed, youthful look!
Naturally Beautiful from the Inside – Zosmetics Anti-Tan Face Scrub
Argan Oil is Anti-aging agent
Coconut Oil Perfect for moisturizing lips
Sweet Almond Oil Removes tan and treats skin rashes
Coffee Robusta Seed Powder Improves collagen production
Vitamin E Oil Complements your SPF
FAQ's
Is the Anti-Tan Coffee Scrub Suitable for Dry Skin?
Yes, Zosmetics. Anti-Tan Coffee Scrub is suitable for all skin types.
Can the Anti-Tan Coffee Scrub be used all over the body?
Yes, Zosmetics. Anti-Tan Chocolate Coffee Scrub is a tan removal body scrub and can be used all over the body.
How can the Anti-Tan Coffee scrub be useful for skin?
Zosmetics. Anti-Tan Coffee Scrub is a fantastic tan removal body scrub; it detoxifies your skin by removing impurities, it removes dull, dry and tanned skin giving it a refreshing makeover.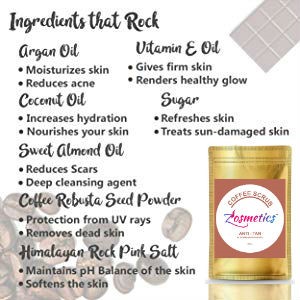 BRIEF SUMMARY
All our products are Natural, Unique and Easy to use
The beauty industry has been about remedying problems for too long. Zosmetics is a brand that believes in keeping your skin healthy through the use of natural ingredients and preventing skin issues from occurring in the first place. It is the embodiment of the beauty industry revolution, and with it, the evolution of the modern woman.
Zosmetics is an experience in self-love. The feeling of that well-deserved down time, that sweet-smelling pick me up and that boost of confidence that comes from feeling good.
Our products are unique, they are made with keeping in mind the availability with respect to brand offering and the correct requirement of an Indian Urban Woman, we're here to make sure every girl gets the best products with a great experience with Zosmetics.